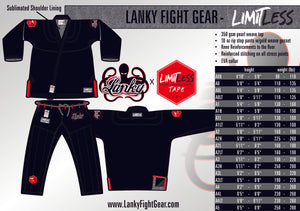 Lanky Fight Gear
Lanky X Limitless Tape - Limitless Gi
Regular price
$175.00
**Sizes not shown are currently SOLD OUT
$175.00
Unit price
per
Our first Collab Gi with Limitless Tape!  This gi is made with 350 GSM lightweight 100% cotton pearl weave fabric and ripstop pants with knee reinforcements all the way to the floor.  Sublimated, spandex shoulder lining and custom seam tape with Elephant Print pattern inspired by a sneakerhead's favorite shoe.
Along with the gi, Limitless Tape will be including some of their awesome finger tape!
This is a limited edition release and each gi will be numbered 1-100.
We've opened up the whole size chart for this, so everyone is able to get their perfect sized gi!
Features:
Lightweight 350 gsm Pearl Weave top

10 oz Ripstop pants with gi material gusset

Sublimated interior shoulder lining with Elephant Print pattern

Embroidered logos on both shoulders and hip

Knee reinforcements all the way to the floor
Sublimated Gi bag included
Numbered 1-100
Limitless Tape brand finger tape included
*Size chart is just a suggestion.  Not sure what size to get?  Just ask!
**Limited edition gi.  Sorry, we are unable to do mix and match tops/bottoms with this model.
---
Share this Product